Maddie Welborn
Bio
Name
Maddie Welborn
Age
20
Birthday
September 14, 1998
Relationship
Nick Bean (ex-girlfriend)
Ship Name
Naddie
Location
Austin, TX
Maddie Welborn (born September 14, 1998) is a YouNow and social media personality.
Biography
Edit
Maddie Welborn was born in Aledo, TX. She later moved to San Antonio, TX, and has now relocated to Los Angeles, CA. She is extremely popular social media star and has toured with Digi and now TLG. She is good friends with Nick Bean and Zach Clayton.
Social Media :
All social media is @maddiewelborn
Twitter ~ 161,631 followers
Instagram ~ 246,000 followers
YouTube ~ 284,633 subscribers
Relationship with Nick Bean
Edit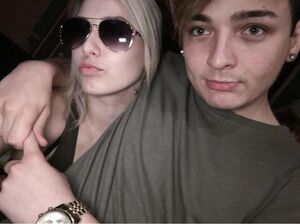 Maddie liked Nick a lot more than her ugly ex-boyfriend Rudan and started a relationship with Nick
They continued their relationship off and on for many years.
In a Messy Monday episode with GotDamnZo Maddie admitted she loved Nick at one time
In a YouTube video Maddie put out she admitted to the relationship with Nick